Cut sponge
charger and stack
of matching
plates-
all in good
condition.


Late 18th to early 19th century walnut country made round tilt-top table, original finish, dish top. all original



Aesthetic movement
watercolor in ornate beautiful gold frame.
All in exceptional condition. Very well done.
Tin locomotive Indian.
These ornaments were
placed on the lantern or
smoke box. Measures
19" high by 16 1/2 "
wide. Circa 1874 -1900
Mounted on board
RARE Ohio white clay lamp, has a heron, owl, & squirrel on tree trunk. Also a match & pipe holder. Signed
AL Frail & dated 1933. Won't find another one like it!
Salesman sample/
child's size TRIUMPH
cast iron cook stove. All workable parts, doors open,
grate moves, etc. All cast iron cookware included---All are old.
This stove is in amazing condition. ​​​​​
Quite large in size!!​
Country Chippendale
four drawer chest.
Tiger Maple, deep color, brasses not original but appropriate​​. 38 in. width, 41 high.
Late 18th - early 19th
century handmade
Fraktur - Lancaster
County - Fragile and
mounted on linen.
Hearts in each corner,
urns with tulips on each side. Conservator
Framed!​
Old Nantucket basket, very good condition
Purchased at Garth's years ago​
12 pc. sterling silver
dresser set. Hard to find complete sets.
Repousse pattern & made by Gorham.
Very good condition,
also monogrammed​​​​
Cherry dovetailed candlebox -original
finish - measures
18 in. long, 7 in.
deep & 6 in. high
Great condition!!​​​​
Lge. firkin, good
condition, name
Ephraim Murdock stamped on lid​
Leaded lamp - Art
Deco style,
All original​​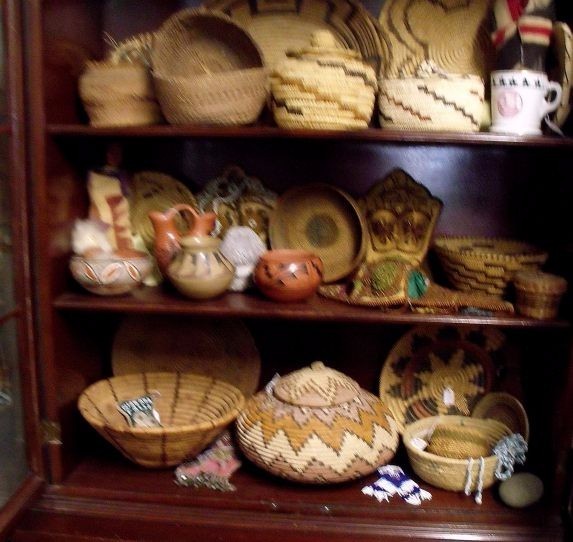 Good selection of
Native American
baskets & pots, etc.​​
Wonderful crazy

​ quilt, lge.,blue
​
​
backing with
​
date
mint, unused

condition. Great needlework - found
locally​
unused, unwashed star quilt - local - mint!!
Large Mason cut stone round - approx. 48 in. across- stone table.

rare to find. Found locally, good condition

Federal period solid curly maple & cherry chest, inlaid escutcheons brasses not orig. but appropriate